Tweek Sweets is a Swedish company who produce and sell low-calorie candy online and in major Swedish stores such as ICA and Coop. Dreamify's mission was to design and build a conversion friendly e-commerce website for Tweek Sweets in the Shopify platform.
Sweets with benefits
Tweek Sweets offers candy, both in bags and in bulk, with up to 95% less sugar and up to 50% fewer calories. Their selection of sweets also contains natural aromas and colors. It was of course important to highlight these benefits within the user experience of the website.
The new online store had to be set up in the Shopify platform to enable increased functionality and more efficient administration of products and pages.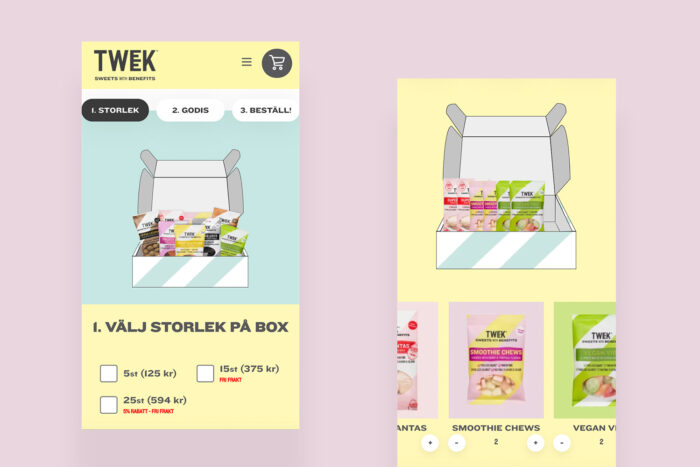 Build your box with candy online
Tweek wanted to be able to offer their customers the opportunity to build their own box with a various of candy bags and set this up for subscription. Because of this, we built an advanced "build your box" feature where the customers could do the following:
Choose the box size (the number of candy bags to add to the box)
Add varieties of candy bags
Place the box in the cart
Pay, start subscribing and get the candy delivered home